Acrylic & Plastic Spheres
Forgot your geometry lessons? That's ok, most people have.
A globe or sphere is a complete ball. We make most of our plastic spheres by bonding two plastic hemispheres together, then sanding and polishing the seams.
Hemispheres can be made in a mold or free-blown.
To learn more about our hemispheres, please visit our Plastic Domes & Hemispheres page. We can also supply you with seamless, injection-blow-molded plastic spheres.
The pros and cons of each method are listed in the chart below: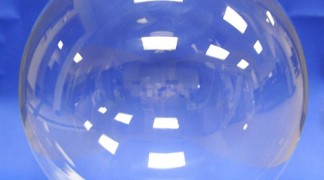 Plastic Spheres
call:
909-930-5535

or
Bonded Sphere Distortion Model

When two free-blown hemispheres are combined to form a sphere the profile looks like this illustration. The drawing also shows the contrasting side view of a symmetrical hemisphere vs. a free-blown hemisphere.
Plastic Sphere Construction Pros and Cons:
Free-Blown
Method (2 piece)

Molded
Hemisphere (2 piece)

Injection-Blowmolded
(seamless)

Visible Seams

Yes
Yes
Minimal

Polycarbonate

Yes
Yes
Yes

Acrylic

Yes
Yes
Yes

Overall Shape

Fair
Very Good
Very Good

Size/Price

Up to 96″
Call for pricing.
Up to 72″
Call for pricing.
6″ Sphere with 2.81″ opening / $15.36
8″ Sphere with 3-1/2″ opening / $19.76
10″ Sphere with 3-1/2″ opening / $26.46
12″ Sphere with 5-1/4″ opening / $32.86
14″ Sphere with 5-1/4″ opening / $57.38
16″ Sphere with 5-1/4″ opening / $63.96
18″ Sphere with 5-1/4″ opening / $89.68
20″ Sphere with 5-1/4″ opening / $123.06
22″ Sphere with 8-1/4″ opening / $176.04
24″ Sphere with 8-1/2″ opening / $258.00
Our minimum order sizes are $50 for stock products, $200 for customized stock products, and $400 for custom orders.*
*Freight and tax are extra